Store
Field Applications of Nikon PC-E and Other TS Lenses - eBook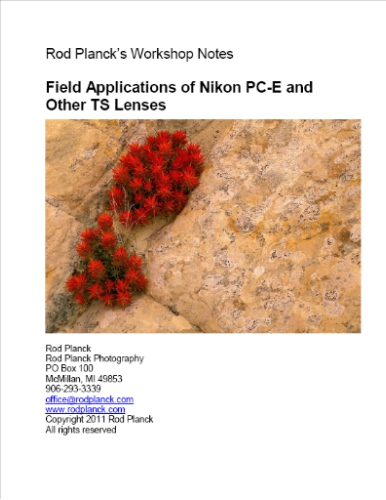 In the past, tilt lenses (Perspective Control / Tilt Shift) have been purchased then rarely used. This was due primarily to the lack of easy to understand information on how to effectively use them.
That was then and this is now! With the release of Field Applications of Nikon PC-E and Other TS Lenses Rod has provided easy to understand text to explain what can be an incomprehensible subject for many - using a tilt lens. After reading this book and following Rod's step by step instructions you'll be able to go out into the field and use a tilt lens to make stunning images with complete confidence.
This beautifully illustrated and well written 90 page e-book is jammed packed with vital information. It is a must for any photographer who currently owns a tilt lens (PC-TS) or is considering the purchase of one.
Topics Include:
What is Achieved by Tilting a Lens?
Plane of Focus and Depth-of-Field
How Does Tilting Affect the Plane of Focus and Depth-of-field?
The Tilt Procedure (step by step instructions)
Tilting for an Invisible Plane of Focus
You Can Rotate and Tilt the Lens at the Same Time
Toeing the Lens
Tilting to Gain Shutter Speed
Shifting, What is its Application?
Easy Shift Panoramic Photographs
What Focal Length (PC/TS) Lens Should You Purchase?
Rod Planck's Nikon PC-E Image Gallery
Plus More!
Download this beautifully illustrated and written E-book now for only $9.95.
| | |
| --- | --- |
| Buy Field Applications of Nikon PC-E and Other TS Lenses for $9.95..... | |